EXPLORE CAREERS AND SUPPORT COMPANIES WHO CARE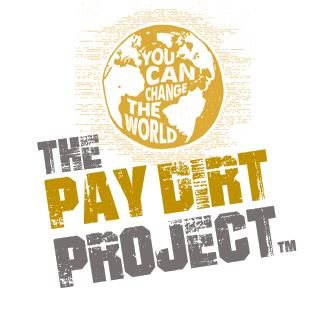 "Your work is going to fill a large part of your life, and the only way to be truly satisfied is to do what you believe is great work. And the only way to do great work is to love what you do. If you haven't found it yet, keep looking. Don't settle".
- Steve Jobs, Co-Founder Apple, Inc.
Pay Dirt - something valuable or very useful that is found after searching or effort; to strike it rich; to hit pay dirt.
It's never too early to start thinking about a career. The Pay Dirt Project helps you explore careers with companies that truly care about the planet and committed to creating a positive social impact in their communities and around the world. Today, more and more young adults are following their head and heart, proudly pushing away from corporations doing business the old, destructive way and supporting products and pursuing careers with companies that are able to coalesce into a collective narrative that proclaims social and environmental objectives as a high priority. As you consider the best everyday products to purchase from a computer, a phone, a car, cloths, even your coffee, what classes to take, which college to attend and ultimately what career to pursue - there are many awesome eco-sensitive corporations and organizations whose core values are centered around respect for the environment and sustainable growth.
A growing number of familiar corporate icons as well as new emerging enterprises have committed to producing products and providing services in a sustainable, environmentally responsible way. Many corporations around the world are making serious strides to ensure their operations are kinder to the planet from the way in which products are made to deeply caring about the workers who make them. And they are seeking individuals just like you with a shared passion for people and the planet to be contributors, innovators and leaders to help continue the transformational change within their organizations! Companies that place social and environmental responsibility at the center of everything they do can give you the meaning and impact you desire in a workplace, while still offering compensation that is competitive with other salaries in their markets.
You have studied too hard, you care too deeply and the planet's very future is at risk so don't spend all of your days at a job that is not meaningful to you. You'll be much happier and truly fulfilled working with a company and surrounded by co-workers that are aligned with your personal and professional goals, values and motivations. Whether you are wanting to research a career with a socially responsible company or simply seeking to learn more about the many inspiring organizations that produce planet-friendly products you can support on a daily basis, we will all become rich beyond our wildest dreams when the future of our planet is a part of every decision we make. The Pay Dirt Project is helping students sort through career paths because the only way to do good work is to love what you do. Despite what you may have heard, job is not a dirty word and the right career with the right company can dramatically improve your quality of life and the lives of many others while saving the planet- now that's striking pay dirt!
All product and company names are trademarks™ or registered® trademarks of their respective holders. Use of them does not imply any affiliation with or endorsement by them.